Earwigs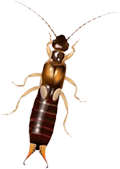 How We Help
Your property is thoroughly inspected for any fly and mosquito sources.
One of our many solutions for fly and mosquito control is used after discussing the proper treatment with the client.
Education is key to keeping flies and mosquitos at bay, and we teach our clients everything they need to know to prevent future occurrences of these pests.
Earwigs can be a nuisance in your home, crawling around and causing discomfort. You may have tried various methods to eliminate them, but nothing seems to work effectively. It's frustrating to deal with these pests alone, especially when you want a pest-free home.
That's where Side by Side Pest Control comes in. We specialize in earwig pest control services and are dedicated to providing fast and efficient solutions. Our team of experts knows exactly how to rid your home of earwigs, ensuring that they are eliminated and won't return.
Fast Earwig Pest Control Services
We understand your situation's urgency, so we prioritize fast service. As soon as you contact us, we will promptly schedule an appointment and arrive at your doorstep ready to tackle the earwig problem head-on. With our expertise and effective methods, you can trust that we will provide a long-lasting solution to your earwig infestation.
Contact a Pest Control Specialist Now
Don't let earwigs continue to invade your home. Contact Side by Side Pest Control today, and we'll take care of your earwig problem quickly and efficiently.